Our Jamestown reading recommendations
Reading and learning about our Jamestown ancestors and how they survived and contributed to the founding of our nation is often a key to determining membership eligibility. As a start, we offer this list of recent books that offer the results of research into the establishment of the first permanent English colony in America.
We have been fortunate that several eminent historians and archaeologists have made presentations at our meetings. We recommend their works as among the most authoritative on Jamestown's era. Their books, and the others below, are available from public libraries, many bookstores and online:
Virginia Immigrants and Adventurers, 1607-1635: A Biographical Dictionary; by Martha W. McCartney; (Baltimore: Genealogical Publishing Co. 2007). This is an excellent resource about the early settlers that arrived in Jamestown in the three decades when it was becoming established. It offers biographical data and records for more than 5,500 people (including over 200 people omitted from the 1624/25 muster list) with maps showing the sites of the earliest plantations that help link the entries in this dictionary.
Jamestown People to 1800: Landowners, Public Officials, Minorities, and Native Leaders (Baltimore, Genealogical Publishing Company, 2012). Martha W. McCartney has published her latest collection of biographical sketches of the people who lived in and around the original colony for nearly two centuries. Using an array of fascinating but little known sources, McCartney has carved out authoritative biographies and sketches of everyone in the public record associated with Virginia's capital, from landowners to slaves. She has also enriched her text with a careful study of privately held papers, lending texture to the historical record while filling in little known details about this very distinctive population.
Besides the biographical sketches that are the focal point of Jamestown People to 1800, Martha McCartney's new book includes an introductory historical history describing the evolution of that community and placing it in the context of regional development. The  events of the second quarter of the seventeenth century that she relates are indicative of her new book's focus and fascination. (Adapted from Genealogy.com's Genealogy Pointers, September 11, 2012)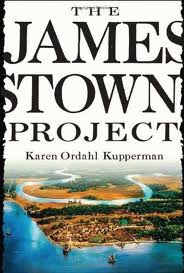 The Jamestown Project; by Karen Ordahl Kupperman (Cambridge, MA: The Belknap Press of Harvard University Press, 2007). Here is an "engaging and accessible interpretation of the settlement of early Virginia" by one of the leading Jamestown historians (she is the Silver Professor of History at New York University). This is an essential read for anyone to gain an understanding the colonization challenges from the English viewpoint. Unlike most of histories of the colony, The Jamestown Project delves into the background and objectives of the Elizabethan-era English trading ventures and how they led to Jamestown becoming the pioneering and instructive colonial project among several throughout the Atlantic world.
The Jamestown Project details how the Virginia Company's management and governance policies changed over Jamestown's first decade of existence. It also describes how the colony became, unlike the failure as it is often portrayed, the model for all subsequent English colonial ventures (beginning with Bermuda and the Mayflower's landing in Massachusetts), largely based on John Smith's writings (as perceptive an observer as he was an intrepid explorer). These models were then employed worldwide as the foundation for the British Empire.
Hakluyt's Promise: An Elizabethan's Obsession for an English America; by Peter C. Mancall (New Haven: Yale University Press. 2007). Anglican clergyman and scholar Richard Hakluyt (1552-1616) "laid the groundwork for the system of English colonization that would begin with the attempts at Roanoke and finally succeed…with the Jamestown settlement." He played a key role in the success of English exploration and overseas settlement; first through his research and publishing efforts and then through information he gleaned as a spy in France for Sir Francis Walsingham, the Queen's chief advisor. (Note: Dr. Mancall is Professor of History and Anthropology at the University of Southern California and Director of the USC-Huntington Early Modern Studies Institute. He is currently writing American Origins, which will be Volume One of the Oxford History of the United States.)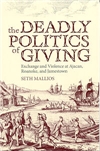 The Deadly Politics of Giving: Exchange and Violence at Ajacan, Roanoke, and Jamestown; by Seth Mallios. (Tuscaloosa: University of Alabama Press. 2006). The Indians of the Powhatan Confederation had a profound effect on the unfolding establishment of Jamestown. Many events and the conduct of settlers' lives were determined by the tensions and conflicts with them. In this book, Dr. Mallios explores the underlying reasons. Indians expected Europeans to trade with them in ways dictated by native custom and protocol. When colonists met such expectations, relations between the parties tended to be peaceful; when they did not, hostility ensued, with the Indians often employing symbolic forms of violence that called attention to the Europeans' offenses. The causes, forms, and functions of Indian violence, in other words, made sense within a Native politico-cultural context. Dr. Mallios, who chairs the Department of Anthropology at San Diego State University, was among the first members of William Kelso's Jamestown Rediscovery Project team (see the following listing) and edits the Journal of the Jamestown Rediscovery Center.
Here are other recommendations to learn about Jamestowne:
Jamestown: The Buried Truth; by William M. Kelso (Charlottesville: University of Virginia Press, 2006). That Jamestown was abandoned and disappeared in the 18th century was for a long time unfortunate for the historical understanding of all origins of our nation. That it was is now also fortunate, because the Jamestown Rediscovery Project's archaeological efforts, which began in 1994, have unearthed important evidence of the original 17th century structures and preserved artifacts that are giving us new facts and proof of its settlers' determination to succeed.
Dr. Kelso (Head Archaeologist of the Jamestown Rediscovery Project) provides an intimate guided tour of the James Fort archaeological site and some of the people and objects associated with it. This book is well illustrated together with numerous fine excavation and artifact photographs.
From a review by Patricia Cornwell: "The unearthing of Jamestown is truly the autopsy of America, an amazing dissection and reconstruction of four-hundred-year-old artifacts and human remains that reveal how the first settlers spent their days, how they lived and died, and what they accomplished and suffered…Jamestown: The Buried Truth, is brilliantly written, a story and adventure unlike any other that will forever change the way we think about what happened when John Smith and his brave followers sailed to Virginia in 1607 and established the first permanent English settlement."
Note: Updates on the subsequent progress of the Jamestown Rediscovery Project (such as the recent discovery of the original church) can be found at: https://www.historicjamestowne.org/the_dig/
A Land As God Made It; Jamestown and the Birth of America; by James Horn; (New York: Basic. 2005). A"must-read" for Jamestowne Society members. Armed with unparalleled knowledge of Jamestown's role in early American history, historian James Horn has written a gripping account of the first years of the colony that gave rise to America. From the unimaginable hardships endured by early colonist in their efforts to establish a settlement, to the dramatic exploits of Captain John Smith and his relationship with the two great Powhatan chiefs of the era, Jamestown began the long process by which different people came together to create America. Dr. Horn is President and Chief Officer, Jamestown Rediscovery Foundation of Preservation Virginia.
These two books relate one of Jamestown's most fascinating tales:
The Shipwreck That Saved Jamestown: The Sea Venture Castaways and the Fate of America: by Lorri Glover and Daniel Blake Smith. (New York: Holt, 2008). Drawing on long-neglected documents and the insights of two respected historians, The Shipwreck That Saved Jamestown offers a fresh perspective that reveals that the colony's ultimate success depended upon a diverse array of adventurous settlers, mariners, and entrepreneurs. The Sea Venture, – with 150 passengers – was dispatched in 1609 by London investors to rescue the starving settlers. A ferocious hurricane in the western Atlantic shipwrecked it off the coast of Bermuda, but this proved to be only the beginning of a remarkable journey of fear and danger, loss and recovery. Seduced by the island's unexpected pleasures for almost a year, the castaways were riven by mutinies when ordered to continue on to Virginia. Ultimately they built boats with their own hands and arrived safely in Jamestown to face the daunting task of rebuilding America's first permanent colony. (As adapted from Kirkus Reviews.)
To see a video of Dr. Glover's lecture on her book, go to: https://www.historyisfun.org/lorri-glover-lecture.htm
Brave Vessel: The Tale of the Castaways Who Rescued Jamestown and Inspired Shakespeare's The Tempest; by Hobson Woodward. (New York: Viking, 2009). Woodward focuses on William Strachey, a Shakespeare contemporary and would-be poet whose real forte was as an acute observer and chronicler of the shipwreck and Jamestown's early years. Where his poetry and other works would otherwise relegate him to the oblivion of forgotten mediocrity, he stands out as an extraordinary and original source for those events with his accounts of the Bermuda adventure and his sojourn in the new settlement.
Woodward characterizes this episode as "…one of the great sea stories of Atlantic history." As he says in his Preface, "The use of William Strachey's narrative of the wreck of the Sea Venture as the framework of The Tempest is a prime example of Shakespeare's craft…My goal is to present for the first time the complete story of Strachey's remarkable account and Shakespeare's transformation of that narrative into his magical Tempest." Reviewers have said "…this he has done in a well-paced, page-turning style."
To see a video of Mr. Woodward's lecture on his book, go to: https://www.c-spanvideo.org/program/288623-1
These are also recommended Jamestown chronicles and biographies:
Captain John Smith: Jamestown and the Birth of the American Dream; by Thomas Hoobler and Dorothy Hoobler, (New York: Wiley; 2005). "This biography is one of those important, smaller, history books by informed scholars that often lead the way in our fundamental historical understanding. From Hoobler and Hoobler comes a surprisingly insightful life study of the surprisingly appealing John Smith. The vast majority of Americans know virtually nothing about Smith. What is known is usually wrong. Truthful, well-written, and informed books like this are of critical importance in keeping the record straight." (From a review by Bill Lewis for Northshire Bookstore). It gives important context for Dr. Kupperman's edition of Smith's writings (see the next recommendation).
Captain John Smith; A Select Edition of His Writings; by Karen Ordahl Kupperman (editor); (University of North Carolina Press, 1988). Captain John Smith was one of the most insightful and colorful writers to visit America in the colonial period. While his first venture was in Virginia, some of his most important work concerned New England and the colonial enterprise as a whole. This is an intelligent and imaginative selection and thematic arrangement of Smith's most important writings. As a reasonably priced distillation of the best of John Smith, Dr. Kupperman's edition will allow a wide audience to discover what a remarkable thinker and writer he was.
A Man Most Driven; Captain John Smith, Pocahontas and the Founding of America; by Peter Firstbrook (London: Oneworld Publications, 2014). Captain John Smith's iconic shadow still falls over Jamestown 400+ years after his 34-month sojourn in helping to found it. That specter is replete with mythology about a certain prepubescent Powhatan girl, disciplining settlers and facing down indigenous chieftains. This new and readable biography helps to brighten that shadow and add human dimensions to that icon.
Firstbrook acknowledges that he relied heavily on the seminal works on Smith by Bradford Smith and Laura Striker and Philip Barbour. But he also used his journalistic skills and new, original sources in describing more obscure episodes that Smith chronicles in his writings, such as his birthplace and early life, soldiering adventures in Eastern Europe and escape from slavery from Turkey through Russia. He enhances them them with illustrations from Smith's works and maps. We learn more details about the captain's dealings with his fellow settlers and the Powhatans (and their perspectives on him), his explorations and naming of New England and, finally (though briefly), his final decades of reflection in England.
Love and Hate in Jamestowne; by David A. Price; (New York: Alfred A. Knopf, 2005). From a Good Reads review: "Drawing on extensive original documents, David A. Price paints intimate portraits of the major figures from the formidable monarch Chief Powhatan, to the resourceful but unpopular leader John Smith, to the spirited Pocahontas, who twice saved Smith's life. He also gives a rare balanced view of relations between the settlers and the natives and debunks popular myths about the colony. This is a superb work of history, reminding us of the horrors and heroism that marked the dawning of our nation."
Pocahontas, Powhatan, Opechancanough: Three Indian Lives Changed by Jamestown, by Helen C. Rountree; (Charlottesville: University of VA Press. 2005). Helen Rountree provides in a single book biographies of Pocahontas, Powhatan and Opechancanough, three important figures in Jamestowne's earliest years. She depicts the Indian experience with the English settlers – from the wary initial encounters presided over by Powhatan, to the uneasy diplomacy characterized by the marriage of Pocahontas and John Rolfe, to the warfare and eventual loss of native sovereignty that came during Opechancanough's reign. Rountree draws a portrait of Powhatan life in which the land and the seasons governed life and the English were seen not as heroes but as Tassantassas (strangers), as invaders, even as squatters.
Pocahontas and the Powhatan Dilemma, by Camilla Townsend (Hill & Wang, a division of Farrar, Straus and Giroux, 2004). "Camilla Townsend's…book differs from all previous biographies of Pocahontas in capturing how similar seventeenth-century Native Americans were–in the way they saw, understood, and struggled to control their world–not only to the invading English but to ourselves." (Excerpt from Good Reads) "Pocahontas has often been a symbol of the capitulation of Native America to British colonialism. Historian Townsend, working from a very fragmentary record, gives Pocahontas a fiercely independent life, within her own nation and outside it…. Townsend traces Pocahontas's life from her childhood and youth (when her strength and athletic ability rivaled the best of either sex) to her eventual marriage to John Rolfe and her move to England." (Excerpt from Publishers Weekly)
The Virginia Adventure – Roanoke to James Towne; by Ivor Noel Hume; (Charlottesville: University of Virginia Press, 1994). Formerly chief archaeologist at Colonial Williamsburg, Ivor Noel Hume pieced together revelatory information extrapolated from the shards and postholes of excavations at sites on Jamestown Island (prior to 1994) with contemporary accounts found in journals, letters, and official records of the period. This is an account of high and low adventure, of noble efforts and base impulses, and of the inevitably tragic interactions between Indians and Europeans, marked by greed, treachery, and commonplace savagery on both sides.
Adventurers of Purse and Person, Virginia, 1607-1624/5, Fourth Edition; compiled and edited by John Frederick Dorman; (Baltimore: Genealogical Publishing Co., Reprinted 2010). Prepared under the auspices of the Order of First Families of Virginia, 1607-1624/5, this new edition extends the lines of descent of the founding families of Virginia from four generations to six, bringing most families down to the Revolutionary or early Federal periods. This three-volume set of biographies of early settlers includes Volume One, Families A-F, (1248 pages including index); Volume Two, Families G-P, (1094 pages including index); Volume Three, Families R-Z, (1089 pages including index.)
The Jamestown Society also offers these recommendations and others among an extensive list of books and publications.
The Library of Virginia also offers an extensive bibliography  of Jamestown and Seventeenth-Century Colonial Virginia  Readings and Web Sites.